I don't have to convince you that the checkout page is one of the most important parts of every WooCommerce store. Possibility to fully adjust it is a must for most store owners. Let's found out what are the possibilities, and how to add custom fields in WooCommerce checkout.
There are various ways in which you can use checkout custom fields in your WooCommerce store. You can add a VAT number field for B2B, collect some marketing information with a simple select query or even add GDPR consent. Of course, these are just basic examples. There are hundreds of different store types with various checkout page requirements, but most of them can be fulfilled with one WooCommerce plugin.
Flexible Checkout Fields
When it comes to adding custom fields to WooCommerce checkout page, there is no better solution than Flexible Checkout Fields plugin. It's very popular (1,255,425 downloads) and really well-rated (4.6 average rating) plugin with lots of great features.
See this video to check its features available in the free version of the plugin:
Flexible Checkout Fields WooCommerce
Edit, add new or hide unnecessary fields from the checkout form. It's all about conversions and better user experience.
Download for free
or
Go to WordPress.org
WP Desk
Last Updated: 2022-08-10
Works with WooCommerce 6.5 - 6.8.x
The free version lets you create:
Single Line Text
Paragraph Text
Textarea
E-mail
Number
Phone
URL
Checkbox
Color Picker
Headline
Image
HTML or plain text
With the PRO version you can create:
all the above and additionally:
Radio button
Select (Drop Down)
Multi-Checkbox
Date
Time
Multi-Select
Radio with images
Radio with colors
File Upload
Using Flexible Checkout Fields you can also edit, rearrange or even disable default checkout fields.
How to add custom fields in WooCommerce checkout?
You already know why you should add custom fields, and what tool is recommended to do that. Now it's finally time to guide you through actually adding these fields in your store.
Of course, first, you have to install and activate the plugin.
When it's done, go to WooCommerce → Checkout Fields.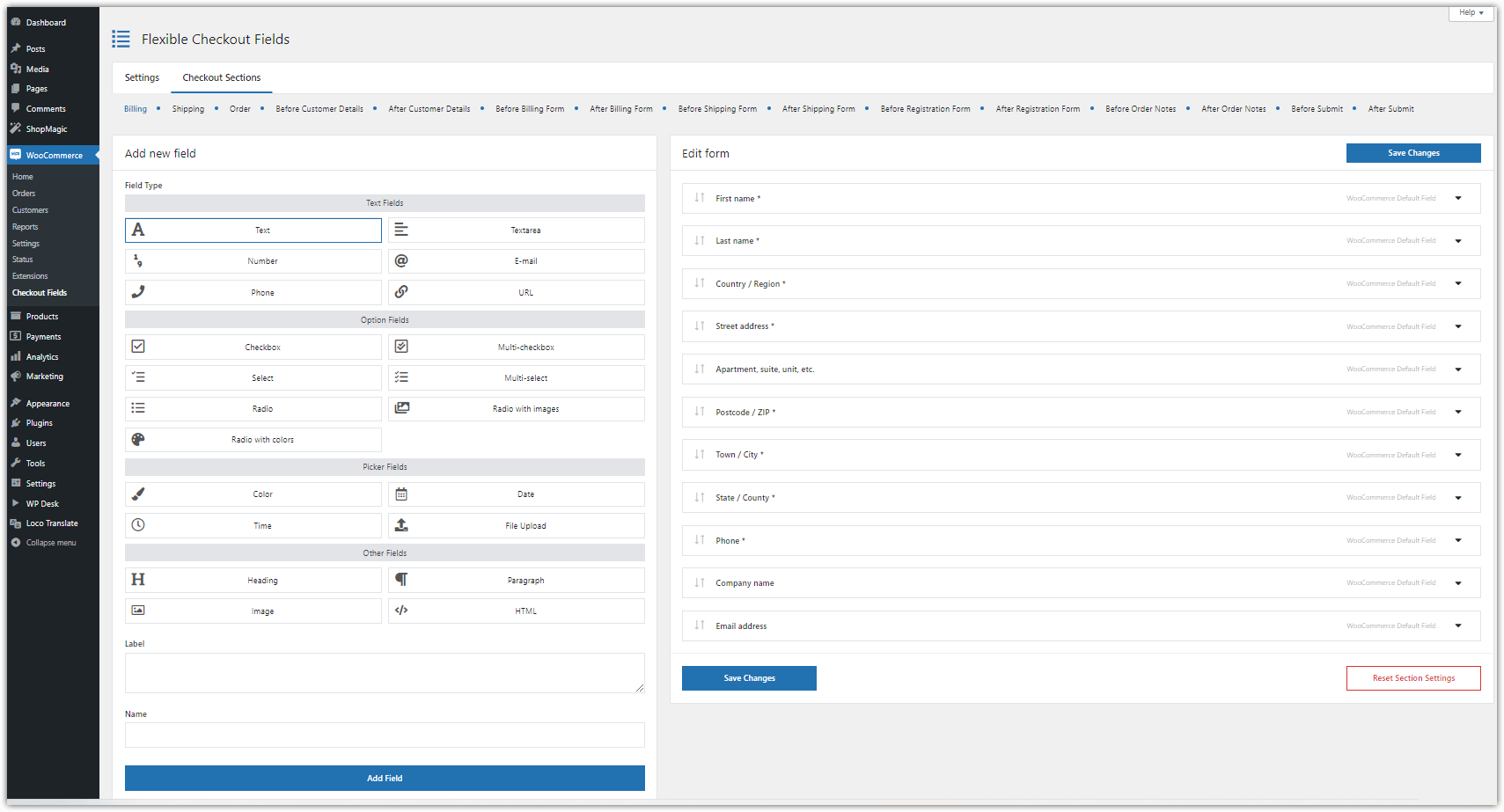 You can customize default billing, shipping and order fields in Billing, Shipping or Order tabs. Custom Sections tab has more options so you can add any custom field after or before:
Customer Details
Billing Form
Shipping Form
Registration Form
Order Notes
Submit Button.
To add custom fields to WooCommerce checkout, select the field type in Add New Field section, enter a label name and click on Add Field.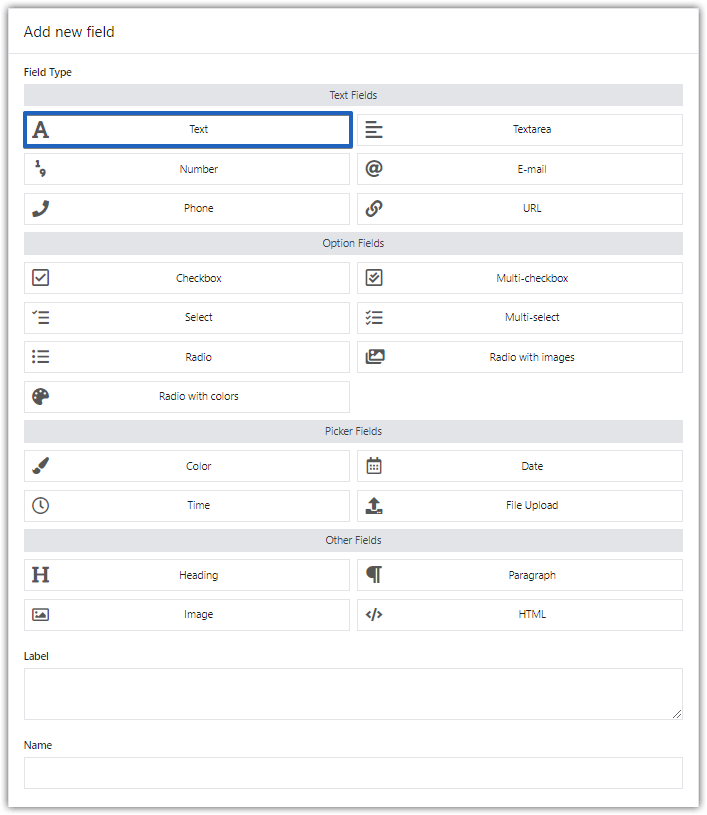 And it's done! But, it's just a start. Now you can adjust your brand new field to your needs.
Let's see what are the options.
General settings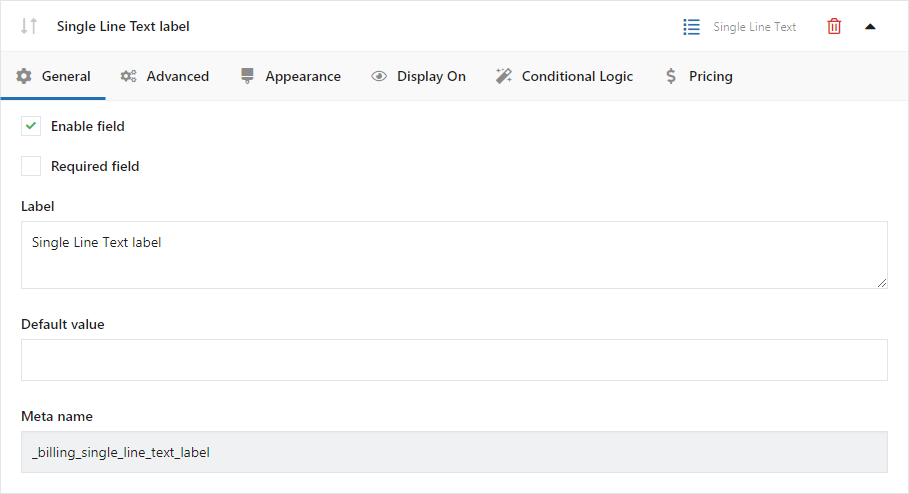 Here you can enable or disable a field (even the WooCommerce default ones), or set it as required. In this section, you can also change the label of the field, or set up validation. Validation check is a great way to make sure that your customers enter their data in the right format. In Flexible Checkout Fields, you can set a phone, email or postcode validation. Check out our article about checkout fields validation to get more information.
Appearance settings

In the Appearance tab, you can set Placeholder and CSS Class. With it, you can use the magic of CSS and style it the way you want. Check out our article on how to set your own CSS class to a custom field.
Display On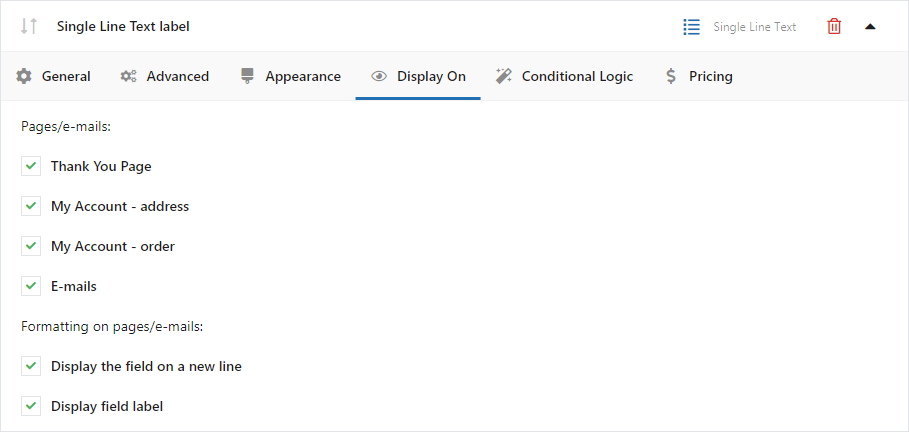 In this section, you can configure where the field should be displayed. There are four options: Thank You Page, My Account - address, My Account - order and Emails.
Conditional Logic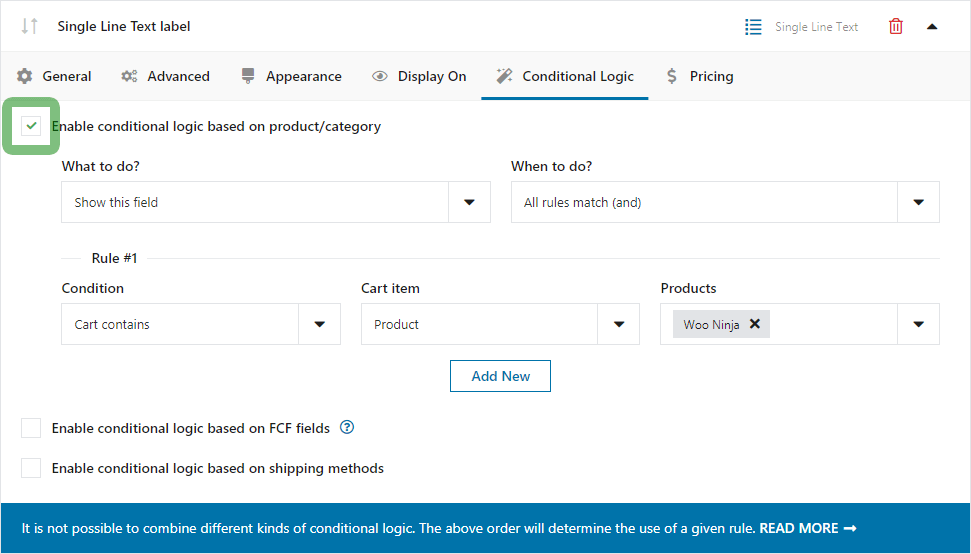 In this tab, you can configure the conditional logic of the fields. There are three really useful options. You can enable fields, product/category or shipping methods conditional logic. That means that one field will be displayed only when another is present or active. The most common use of that is showing the text field after the user checks a checkbox.
Pricing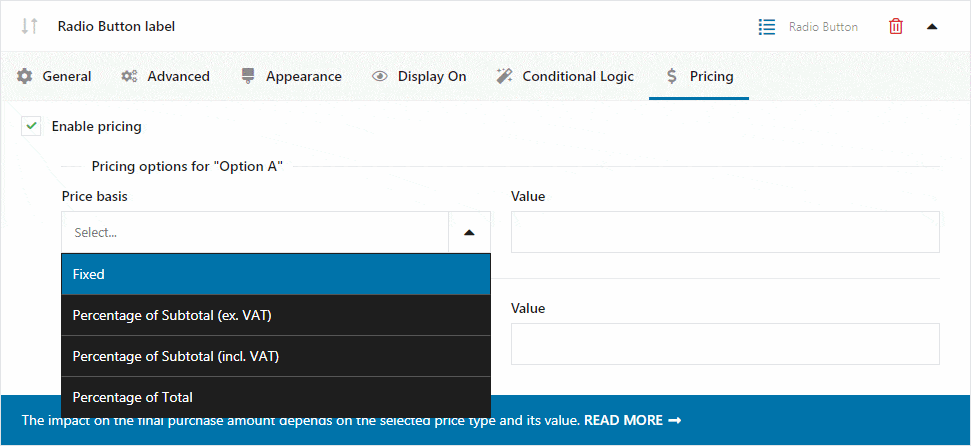 The fields added using our plugin also have a Pricing tab with available options for assigning a price. The impact on the total purchase amount depends on the set price type and its value. Check out our article about field pricing to get more information.
WooCommerce checkout fields with prices using Flexible Checkout Fields
Summary
In this article, you have learned how to add custom fields in WooCommerce checkout page. I hope that it'll help you to adjust your store to customers demands. They can get a better customer experience, and you'll sell more. Good luck!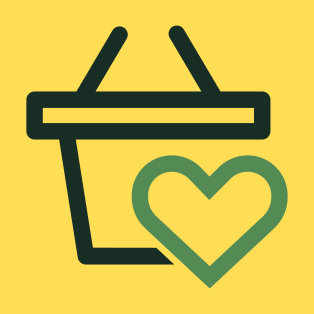 New FREE WooCommerce Wishlist plugin: Flexible Wishlist for WooCommerce. It is lightweight. Fits any theme. 100% customizable.