Do you need valuable eCommerce tips to boost your sales? Here you are. I'll ask you 6 simple questions about your store. Also, I'll help you to find answers to them. When you know the answers, you can make changes that will boost sales in your store!
Simple eCommerce Tips for Your Business
People say that the simplest solutions are the best ones. I agree with them.
You don't have plenty of time and money. You need simple and valuable eCommerce tips for small business.
I know it so I decided to create this article. You'll learn how to easily test different solutions at low-cost.
I decided to ask you 6 questions. This way you'll have to think about your store's conversion, test solutions, and make changes in your store.
I wish you a bigger conversion after using these eCommerce tips!
1. Where do your customers come from and how the source convert?
Customers visit your store from different sources. When they know your brand very well, they often come to the store directly. However, most of the time, there will be different sources like Organic Search, Paid Search, Referral etc.
One of my eCommerce tips is that you have to know how many people come from different sources. Also, you need to know what they do in your store in general.
Let's say you use AdWords to generate traffic to your store. This is the Paid Search type. It helps to get your store rolling, of course. However, remember that you pay for every single click to your store.
Organic Search may be a better investment. You need a good SEO copywriter. Once the copywriter creates the content for your store, it attracts the traffic.
There is one, very important thing to know. You write content once, and it attracts the traffic for a long time. That can make this strategy more economical.

Look at the screenshot above. It shows how much pageviews generates one of our blog posts.
As you see, it tripled the traffic in about a year. You have to wait for the effects while AdWords gives you the traffic instantly.
However, one blog post will generate traffic in the course of time. Also, the more you write, the better is your store's overall position on search engine result pages.
You can check out how much traffic do you attract from different sources in Google Analytics:

If there are too many new users from CPC, think about your Organic Search marketing strategy. You'll pay less in the future for the traffic.
2. Where do your customers leave?
There are pages in your store that doesn't attract your potential customers. The copy may be unclear or there are not enough product descriptions. That is why the users exit these pages.
That's another one of the eCommerce tips. You should definitely know which pages don't attract your users. This way you can take a closer look at them and improve the conversion.
Sometimes you pay a lot for CPC ads and there's the traffic on your store. You pay for the effect - the clicks. However, it doesn't have any value for you if the users just exit your store.
Look at the Landing Pages in Google Analytics:

These pages are the point where the user's journey starts. They somehow go to these specific pages first (directly, from Google etc). You can check out the Bounce Rate here.
What is the Bounce Rate? It is the percent of users who vanished from the store on the first step. They come to some specific page of your store and they exit. There are no other pages they were in their session. Just one page and they went away.
You can optimize the pages with the highest bounce rate. Also, if you use CPC ads, you can try to direct them to pages with a lower bounce rate.
Don't forget to check out if CPC even works for you - Bounce Rate in Source/Medium:

There is another useful place in Google Analytics that you should check. It's the Exit Pages. The Exit is something different than Bounce Rate. Bounce Rate means users end their journey on the first page they start. The Exit is the place where all users end their journey, not only the one-page viewer ones.

3. How much time do people spend on your page?
How much time do users spend on your store's website, and on how many pages?
This is really important. It doesn't mean that their journey has to be long. It depends on your business strategy. Our users spend a few minutes on our website but their journey is often limited to one page. However, they convert. That's because most users just read a specific guide on our blog and then they exit or buy. Sometimes they come back but that's another session.
There is another important thing you should know about. That's the third one of the eCommerce tips I show you in this article. It is very important to link internally.
If you blog, then link to other posts on the same topic. On the product page, you should have internal links to other products in the same category. We are not SEO specialists, we use the knowledge from others. We recommend Yoast SEO's Guide on internal linking
Go to Source/Medium and check out the Pages/Session and Avg. Session Duration:

4. What do people do on specific pages of your conversion funnel?
You can create a lot of content for your products. Your copywriter may write the best product descriptions. However, it doesn't matter if no one reads it!
My question is, do people really spot the elements you invested in, such as good copy? Do they expand product images so they see best quality pictures your photographer made? Do you know what exactly they see on your store's website?
We may design websites using good practices. We may think that these way we'll make that website will convert more often. But it's just an assumption. We need to verify it after implementing.
The best way is to see the website the way the customer sees it. With this method, we can notice a lot of interesting behaviors. People are different and they don't always do things the way we predict.
What a convenience we run e-shops! We can use cheap and easy tracking technologies such as Smartlook.
Once you find answers to these questions, you can optimize your store's website. Sometimes it will be just a few improvements such as rearranging elements, shortening copy or placing hints on the site. When you know how users use your website, you get ideas for improvements very quickly. I hope that you won't have to redesign your project!
5. How does your copy and product photos influence the conversion funnel?
You have already know how customers use your website. However, do you know which improvements work and which don't? You need to test it.
You may have different conversion goals in your store. It depends on your marketing strategy. However, every visit should push a customer to make at least one step further in your conversion funnel.
The way you design your website equals how people use it. So, when you make changes on the site, it may affect everything in the conversion funnel. How do you know your changes makes it better?
A/B testing is your answer. You don't need to spend a lot of money on A/B tests software. There is a free tool right away. You should definitely check out the Google Optimize. It integrates with your Google Analytics account, so it's easier to start.
A/B testing means you have two variants of a site. It doesn't have to be two different website designs. You can test simple things like Call-to-Action button's color.
For each test, you set a conversion goal. Google Optimize shows two different versions of your site. One user sees the A, while the other sees the B.
When the test is running for enough time, you have the record of what version converts better.
Experiment with your website's look and content. I wish you boosting your conversion this way!
6. Why do people leave your checkout?
One of the common mistakes is to make checkout complicated. The checkout needs to be as easy as possible. It's like a long queue in a stationary shop. You're ready to spend your money but you leave. It's all about the inconvenience.
Your checkout may be distracting. It also can be unclear. Some options that are easy to understand for you, may not be to others. Sometimes there are too many or not enough steps in the checkout. How is it possible that fewer steps lower your conversion? The fewer steps you have in your checkout, the more information your store displays on each step.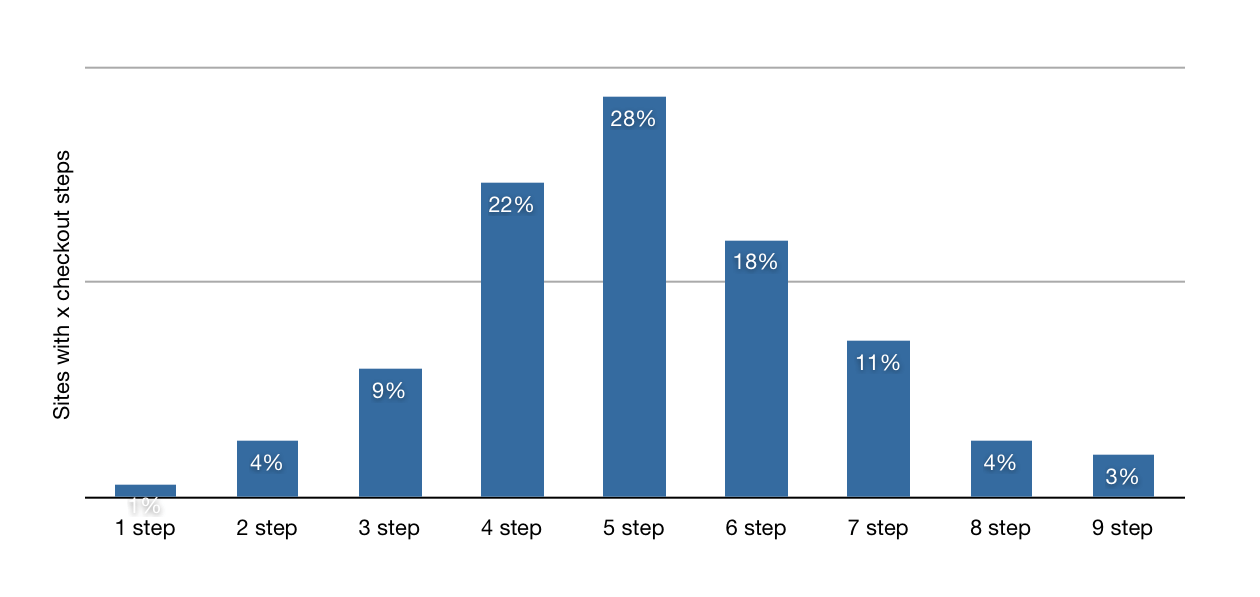 As you can read on a Chargebee blog, most of the top 100 eCommerce companies had a 5-step checkout process. But that is statistics. It doesn't mean it will work for you if you make 5-step checkout in your store.
You simply need to test it. I have already shown you the Smartlook tool. Use it to watch what people do at your checkout. Also, using Google Analytics, find out at which step they leave. This way you'll find out why do people leave your checkout. Next, you'll be able to make changes... and test the behaviors at the checkout again ;)
We developed a plugin that can help you with checkout modifications.
Flexible Checkout Fields WooCommerce
Edit, add new or hide unnecessary fields from the checkout form. It's all about conversions and better user experience.
Download for free
or
Go to WordPress.org
WP Desk
Last Updated: 2020-09-23
Works with WooCommerce 3.7.0 - 4.3.x
First, you need the free Flexible Product Add-Ons plugin. You can download it for free from WordPress.org or install it right from your store's plugins section searching for flexible product fields:
Summary
You have learned a few valuable eCommerce tips for small businesses. How do they help you? Have you reached your goals? We are always looking for your feedback. Let us know in the comments section below.