All online store owners know the importance of GDPR, and it's employment. In this article, I'll show you how to add a concent field in your GDPR-compliant WooCommerce checkout page with one of our plugins, Flexible Checkout Fields.
The General Data Protection Regulation (GDPR) was something that many online store owners were afraid of. Almost a year after it has been affected, the situation is rather calm. Most of the stores are GDPR-compliant, and users profit from their rights.
GDPR and WooCommerce
Since WooCommerce 3.4 many GDPR oriented features were applied. Now you can set privacy policy, export and delete user data from WooCommerce dashboard. All these features are handy, but in some cases, they are not enough. Sometimes you have to use external plugins.
Flexible Checkout Fields
It's one of our's most popular plugin. Over 70,000 stores use it on a daily basis. It has a lot of options. You can not only add new fields in WooCommerce checkout, but also in the user's account and even in emails. These features can help you to make your WooCommerce store GDPR compliant. If you want to know more check our Complete Guide to Extra Fields in WooCommerce Checkout article.
Flexible Checkout Fields PRO WooCommerce

£

59
Edit, add new or hide unnecessary fields from the checkout form. It's all about conversions and better user experience.
Add to cart
or
View Details
WP Desk
Last Updated: 2022-08-10
Works with WooCommerce 6.5 - 6.8.x
How to add GDPR concent in WooCommerce checkout with Flexible Checkout Fields?
The best way is to use a checkbox with consent. To do that you'll need the PRO version of Flexible Checkout Fields. When the plugin is installed, go to WooCommerce → Checkout Fields → Settings. In Custom Sections select Before Submit and click on Save Changes. If you want to add your GDPR concent checkbox in other section, just choose one of the listed below.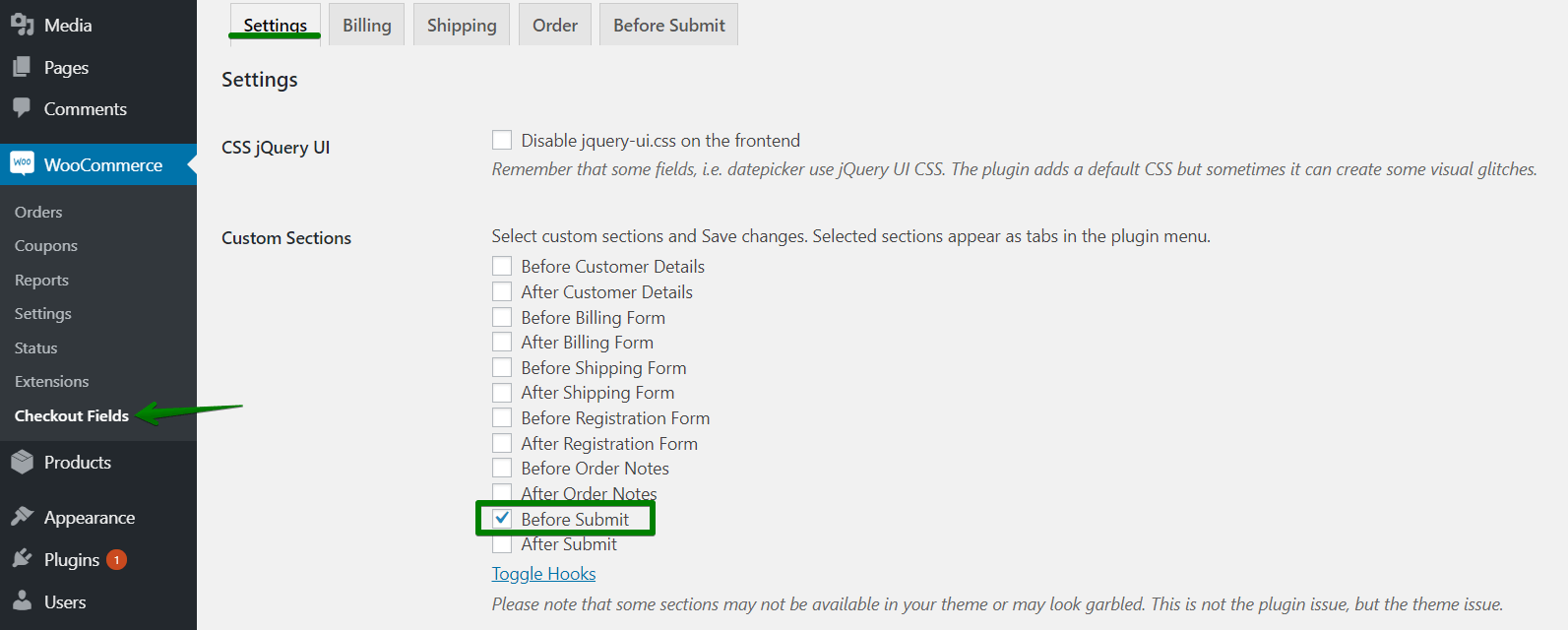 After saving, you should see a new tab - in my case Before Submit. Click on the new section and add a new field. You have to complete some information about it. First, in Field Type select Checkbox, next on Label add text you want to add to your checkbox (you can use HTML), and last input a Name of your field. When you complete it all, click on Add Field to proceed.

On Edit Section in Section Field, you should see your new field. In General setting select Required Field like in the screenshot below.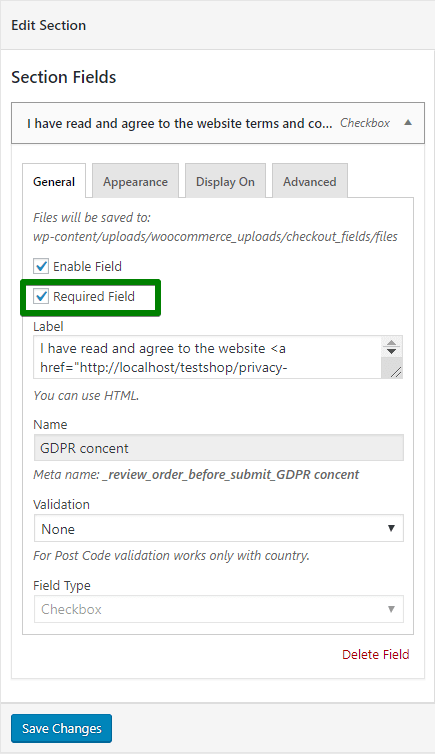 Click Save Changes to add GDPR concent in your WooCommerce store. Now is time to check how does it look.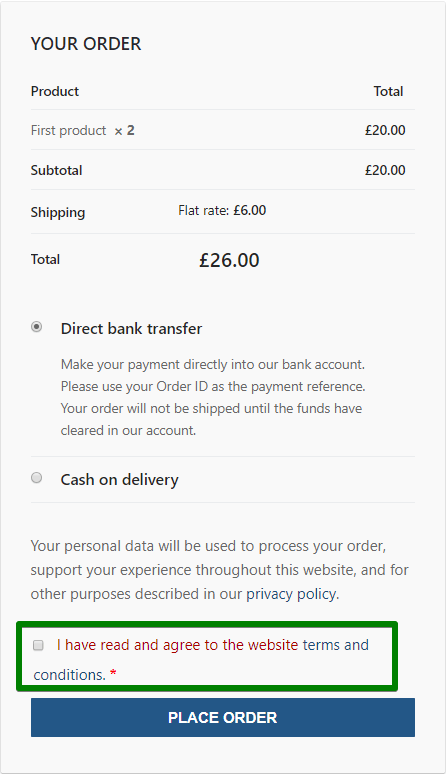 In my case, it looks fine. Maybe need some visual improvements, but there is nothing that CSS won't fix.
As you can see adding GDPR concent in WooCommerce checkout page can be quite simple, especially when you use Flexible Checkout Fields. I hope that this article will help you adjust your store to GDPR requirements.