Today I'll tell you about a plugin that lets customers buy gift cards in a WooCommerce store. See how to use the potential of the Flexible PDF Coupons WooCommerce plugin in your store.
Discounts, coupons and gift cards in WooCommerce
By default, WooCommerce gives you the possibility to use discount coupons in your store. You may let your customers use them for cheaper shopping. Of course, assuming you turn them on. Read more about adding and configuring such coupons in The Complete Guide to Creating WooCommerce Coupons. A coupon itself is a kind of a tiny code that the customer can use when placing an order. By entering it in the cart or above the order form, one may receive a discount.


Of course, the coupon itself can be used according to your custom settings e.g. its value, expiry date, minimum order amount, allowed emails, usage limits, etc. You may send discount coupons to customers via email after some time as a way to thank them for shopping in your store. And as a way to kindly encourage them to come back later.
Gift cards thanks to Flexible PDF Coupons WooCommerce
There is a way to enhance discount coupons in WooCommerce. Recently, we've been working on the Flexible PDF Coupons plugin for WooCommerce. Now you can let your customers buy gift cards, e.g. as a gift for a loved one, by themselves. Such gift cards use and are built on WooCommerce coupons. It means they are well integrated with WooCommerce itself.
You can create such a gift card (a voucher / a discount card ) just like any other product in WooCommerce: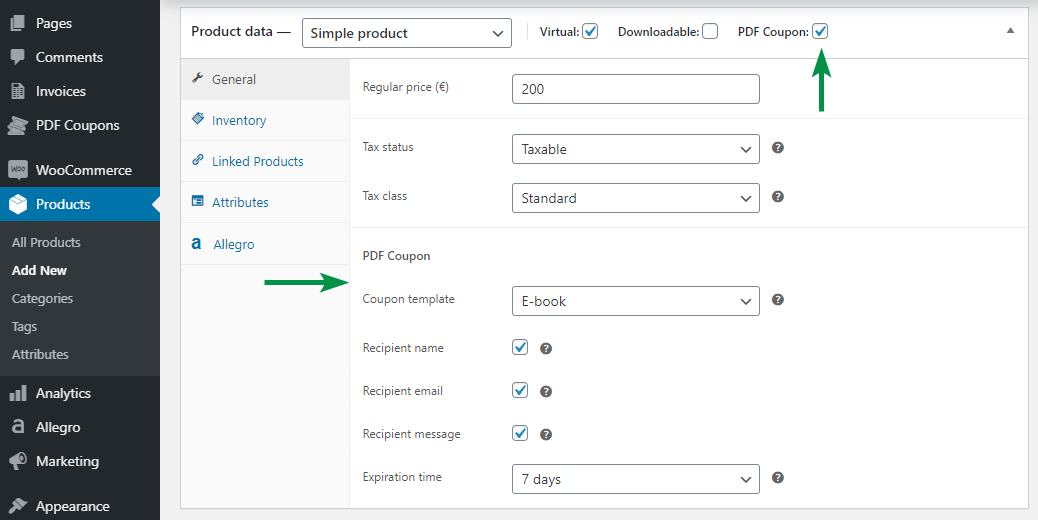 When creating a gift card, you can use ready templates or create yours in the graphic editor.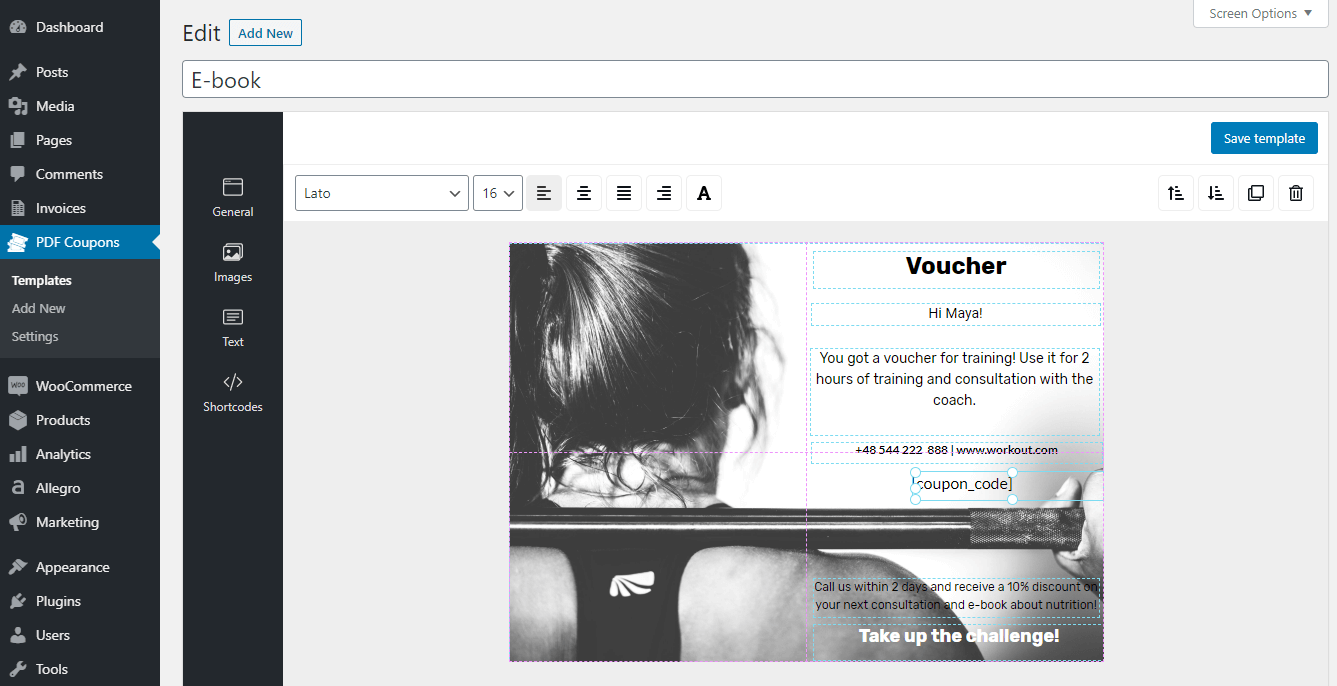 You can read more about how the graphic editor works in the Flexible Coupons for WooCommerce documentation.
So after adding such a product/ coupon to your store, customers will be able to buy gift cards. The cards will be generated for a standard WooCommerce order. Then, you will be able to send such gift cards by email or just print them. And you may use the plugin in the store right away! Download the free version of Flexible PDF Coupons WooCommerce plugin for your store to start using it today.
Below is a brief comparison of the free and PRO functionalities of the plugin.
Flexible PDF Coupons
Flexible PDF Coupons PRO
Graphic Editor
Shortcodes for a gift card in the Graphic Editor
Coupon value
Coupon code
Coupon value
Coupon code
Coupon expiry date
Product name
Customer name
Customer address
Recipient message
Recipient email
Recipient name
Site URL
Sending the gift card to
Customer
Customer and
The option of providing a different recipient email address
Gift Cards Templates
Automatic sending for a chosen status
Additional coupon fields:
name, e-mail, message
Editing the coupon expiry date
Sending an email with a gift card to the recipient
Editing the content of the email
WooCommerce Plugin
Flexible PDF Coupons
Flexible PDF Coupons PRO
Does your WooCommerce business fit for gift cards sell?
Google Trends analysis shows that discount coupon cards and gift vouchers are very often used in stores with:
clothes, shoes or fashion in general
cosmetics, perfumes
food for delivery, groceries, healthy food
sporting articles and accessories
digital products, books, ebooks, games, VOD content, subscriptions
services: cosmetics, courses, training, taxi rides, courses, tips
home and garden equipment
zoological articles, RTV equipment, and household appliances
reservation of places, trips and transport services
flower delivery and occasional gift cards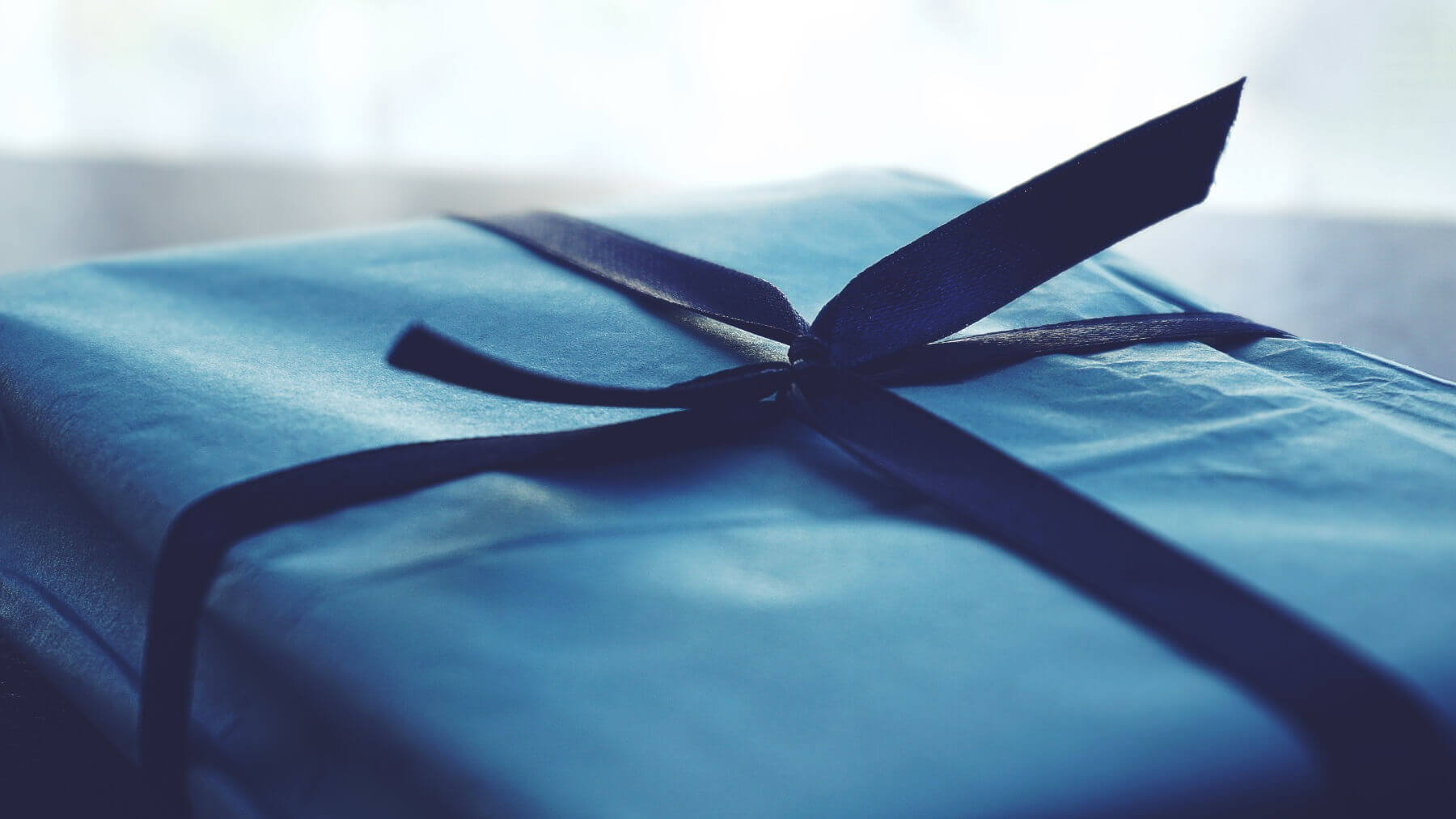 How to create a gift card in WooCommerce?
Take for example Peter, who runs a gym with fitness training plans. In addition, he is a specialist in healthy nutrition. He would like to reach new clients and help some people to change their dietary habits. He knows that very often a decision to start training or changing one's diet is the key. Staying with training or on a diet is often easier after meeting a person face to face. It helps to stick with training or a diet. Good motivation and encouragement to take up the challenge are the most important.
That's why Peter wants to add a new product to his online store based on WooCommerce. Such a product should allow visitors to buy gift cards. He thinks that it is also a very interesting idea (gift cards itself and a chance to get new customers). Especially since no gym in his neighborhood offers the opportunity to buy such gift cards/ vouchers by the Internet.
See now how you can implement a similar scenario in your store!
Create a template od PDF Gift Card with Graphic Editor
Let's start with the graphic editor in the Flexible PDF Coupons WooCommerce plugin that allows you to set size, write content, add pictures, and shortcodes for a gift card in PDF format. Here's how editable template of a gift card may look like (training and nutritionist's advice):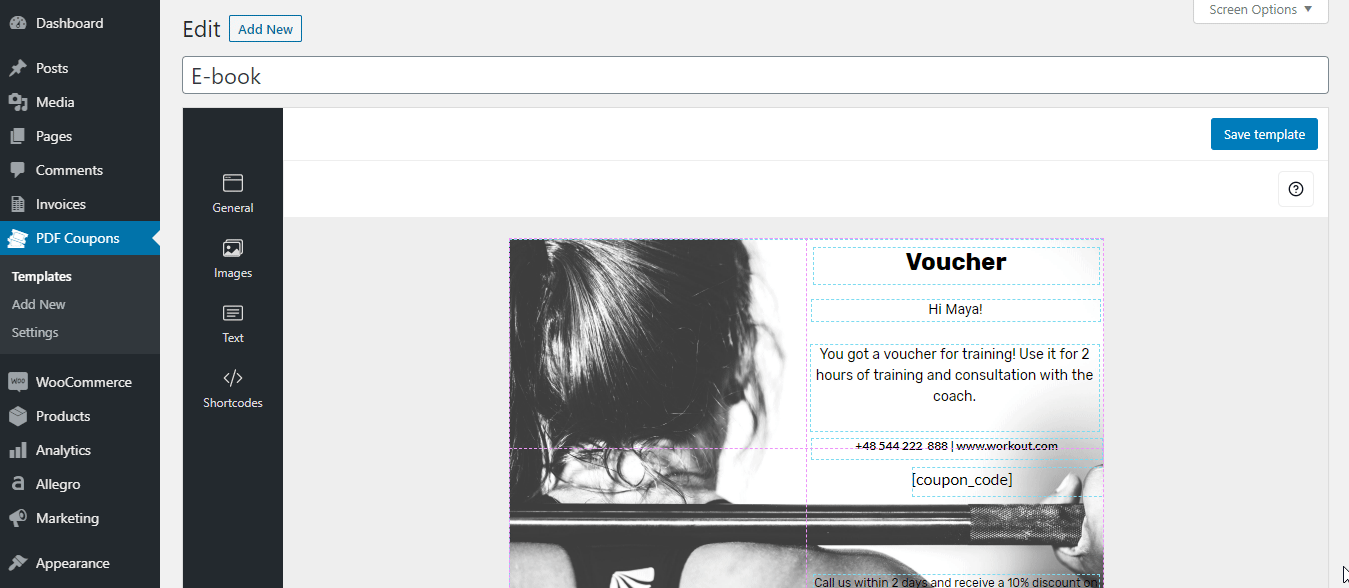 Then, you may use such a template later on just by selecting it when adding a WooCommerce product (additional fields, i.e. name, e-mail, content, and coupon expiry date are available in the PRO version):

From now on, your customers will be able to purchase such a product/ gift card in your store by placing an order:
After the client's purchase, a standard WooCommerce order is created. You can generate a WooCommerce discount coupon and a gift card according to a previously selected template: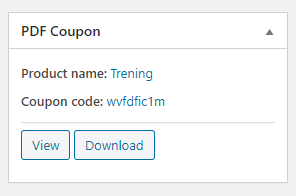 What's more, you can also set the automatic generation and sending of a gift card/discount coupon for a specific WooCommerce order status:

Finally, the discount coupon will be sent by e-mail to a customer or to a recipient's e-mail address (in the PRO version):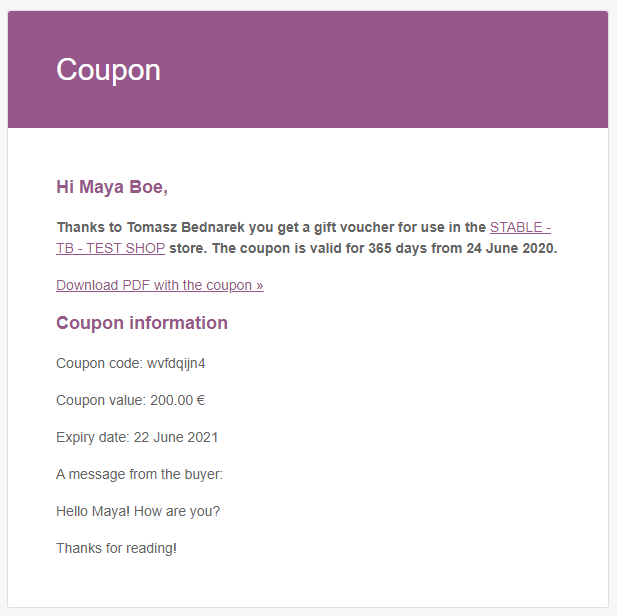 And here is a final view of the PDF gift card. It may be printed, for example, before coming to the first training: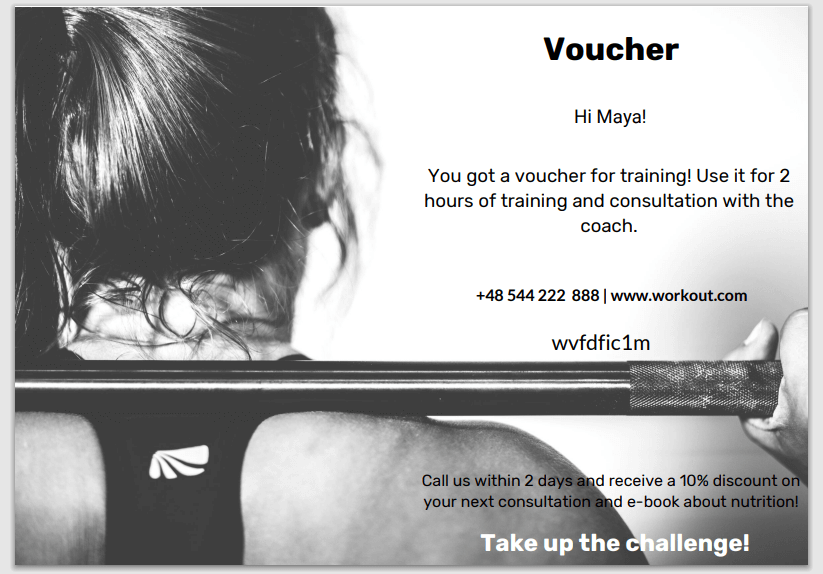 Gift cards in WooCommerce
Using discount coupons in WooCommerce allows you to encourage people who are undecided. They may not know which product to buy but they want to make a gift to a loved one. The plugin will help them in that situation. On the other hand, you will increase sales and engage visitors, e.g. to share a link to your store.
How about adding some gift cards to your store? Maybe you have some interesting scenarios to use such vouchers in WooCommerce? I hope that the Flexible PDF Coupons WooCommerce plugin will help you expand your offer with gift cards and thus reach more customers. If you want to share your own idea or have any questions, write a comment below the article.
Check out the PRO plugin in the free demo. Also, I would like to invite you to visit the product page of the plugin:
Flexible PDF Coupons WooCommerce

£

59
Design your own PDF coupons and sell them as gift cards, tickets or service vouchers by using Flexible PDF Coupons for WooCommerce.
Add to cart
or
View Details
WP Desk
Last Updated: 2021-07-13
Works with WooCommerce 5.2.0 - 5.5.x