WooCommerce variations are still the most popular method of product configuration in online stores that use this plugin. The main disadvantage of this solution is that the choice is limited to the options available on the lists with attributes. But the deeper the personalization - the greater the need to use a different kind of field than a regular Select. The File Upload field on the WooCommerce product page can be added e.g. thanks to the Flexible Product Fields plugin.
The plugin has undergone two important updates some time ago and is now one of the most extensive when it comes to fields. After the visual change (in version 2.0.0) it is time to expand the functions. The most serious change is the implementation of the File Upload field. This message will please those users who encouraged us to add this feature - e.g. shops that use graphic files as prints on T-shirts.
The most important information about the field:
drag & drop mechanism - select files or drag them to the field area
support for multiple files - there is no need to add a separate field for each file
limiting the format and size of the transferred file
full preview - files are available as links e.g. in the Cart
Insert the File upload field on the product page
Adding a field is simple and comes down to basic information.
Add a new group with fields (Add New button) or edit an existing group. Assign a group to e.g. products or categories if needed.
It is also possible to set Selected files limit or Maximum file size in MB.
Publish the Group or Update changes.
The effect of the above changes will be the appearance of a new field on the product page. The file will be added to the product after clicking the Add to cart button (and reloading the page).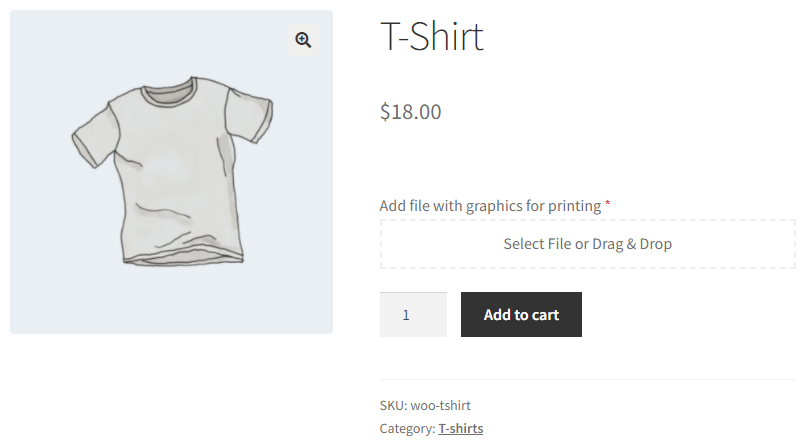 The file will be visible in the Cart in the product description as a link. Clicking on the link will show a preview of the file in a new tab. Our Developer has made sure that the files sent are safe. Its name is changed to a random name containing 32 characters when the file goes to the server.
Summarizing
The File upload field on the WooCommerce product page is a good solution when personalizing this product means using graphics (e.g. prints on cups). But Flexible Product Fields also makes it possible to insert a different type of field. The last plugin update has brought big changes when it comes to new fields.
Fields available from version 2.1.0:
Flexible Product Fields PRO WooCommerce

£

59
Create a product wizard to sell engravings, gift wrapping, gift messages, business cards, stamps and optionally charge for it (fixed or percentage).
Add to cart
or
View Details
WP Desk
Last Updated: 2022-06-14
Works with WooCommerce 6.2 - 6.6.x