WooCommerce is very flexible. You can use this e-commerce platform not only for selling standard, physical products. You can create a catering business using WooCommerce, too! There are a few ways to create such an e-commerce site. In this article, I will show you one of them: WooCommerce Catering Plugin alternative.
WooCommerce Catering Plugin Alternative - How to get ready
I want to show you a simple and easy-to-implement method based on extra product fields. The solution will make use of standard WooCommerce products. There will be no need to implement overcomplicated plugins and systems.
First, you need the lightweight Flexible Product Add-Ons plugin.
Flexible Product Fields WooCommerce
Create a product wizard to sell engravings, gift wrapping, gift messages, business cards, stamps and optionally charge for it (fixed or percentage).
Download for free
or
Go to WordPress.org
WP Desk
Last Updated: 2022-08-10
Works with WooCommerce 6.4 - 6.8.x
You can download it for free from WordPress.org or install it right from your store's plugins section searching for flexible product fields: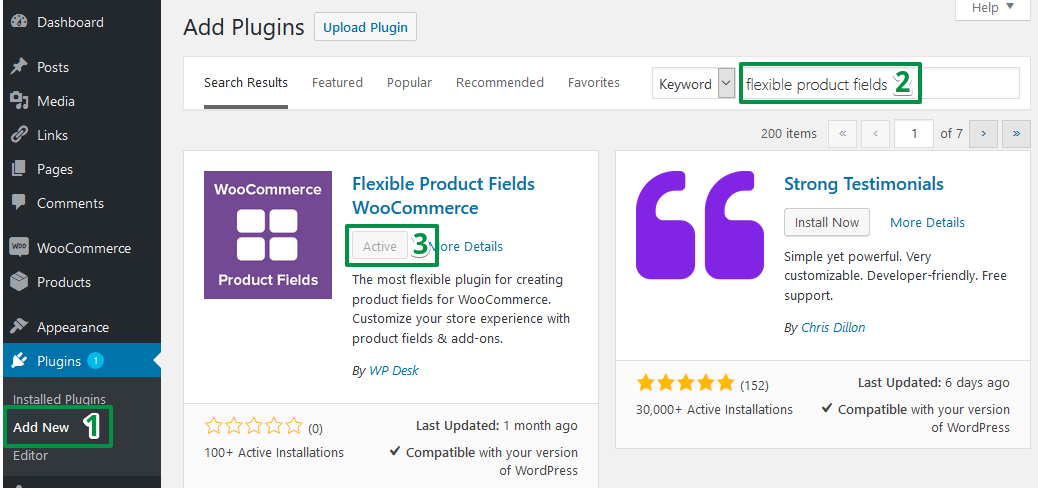 Once you have the plugin installed and activated, let's configure it. Choose: Products → Product Fields in your WordPress menu. Then you need to add a new field group: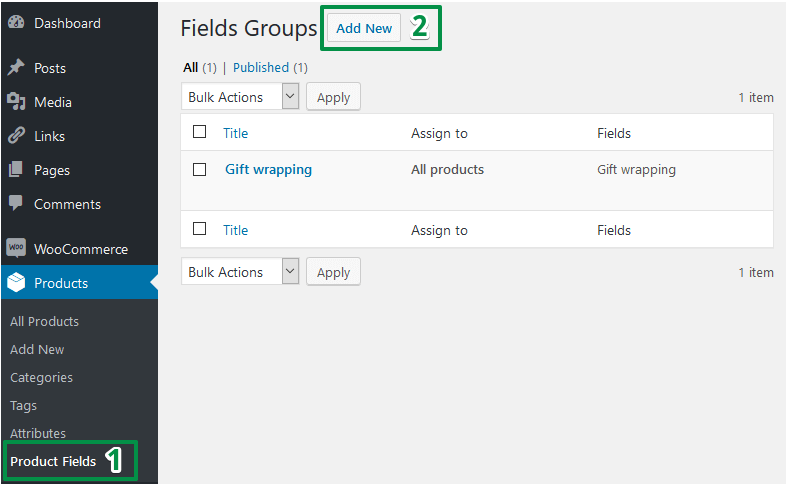 You need to specify the product(s) in which a customer will be shown the catering extra product fields. This is easy. It could be all the products in the store, of course, if your store deals with catering only.

In the free version of the Flexible Product Fields, you have to specify products one-by-one while in the PRO version you can select either all products from a category or all products in the store.
You have to buy the PRO version if you want to charge customers for the selected fields. However, you can just check out the method while using the free version.
WooCommerce Catering Plugin Alternative - Setting up the fields
Below the Settings section, you will see the Fields section. I have configured it this way:

I wanted to let a customer:
select when catering starts (the date field),
decide if the catering should be lactose-free and/or gluten-free and/or vegan (a checkbox field),
how long the subscription should last (a radio field to select 1/2/3/4 weeks).
You can see an example configuration of the Subscription plan field below: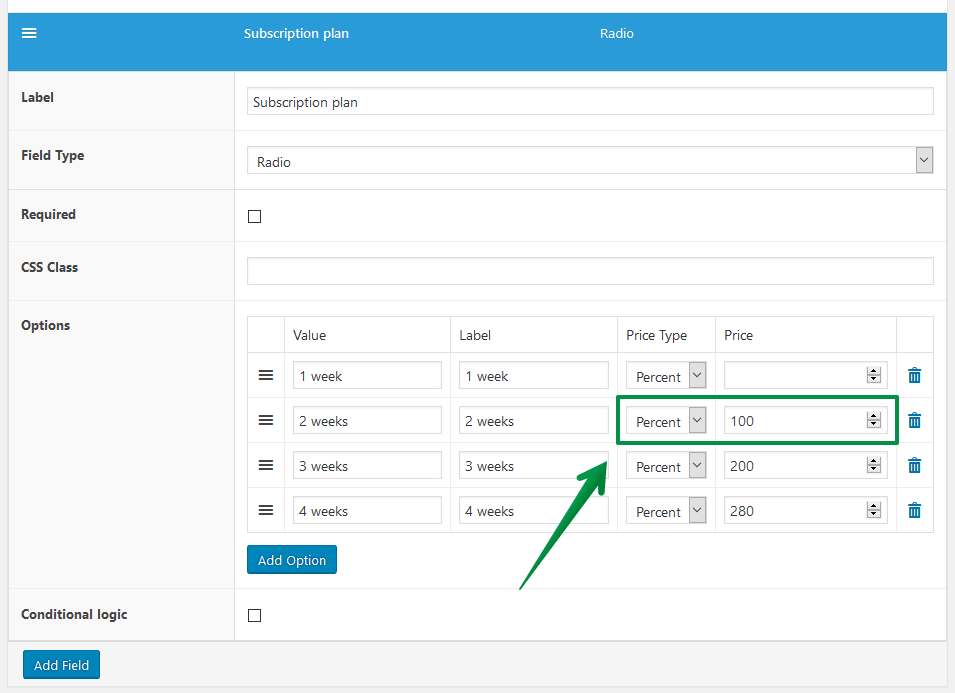 If you need any help with the configuration of fields, you can check out the docs or ask me in the comment section below the article.
WooCommerce Catering Plugin Alternative - Live in a store
This is how it looks like in the shop - on the product page: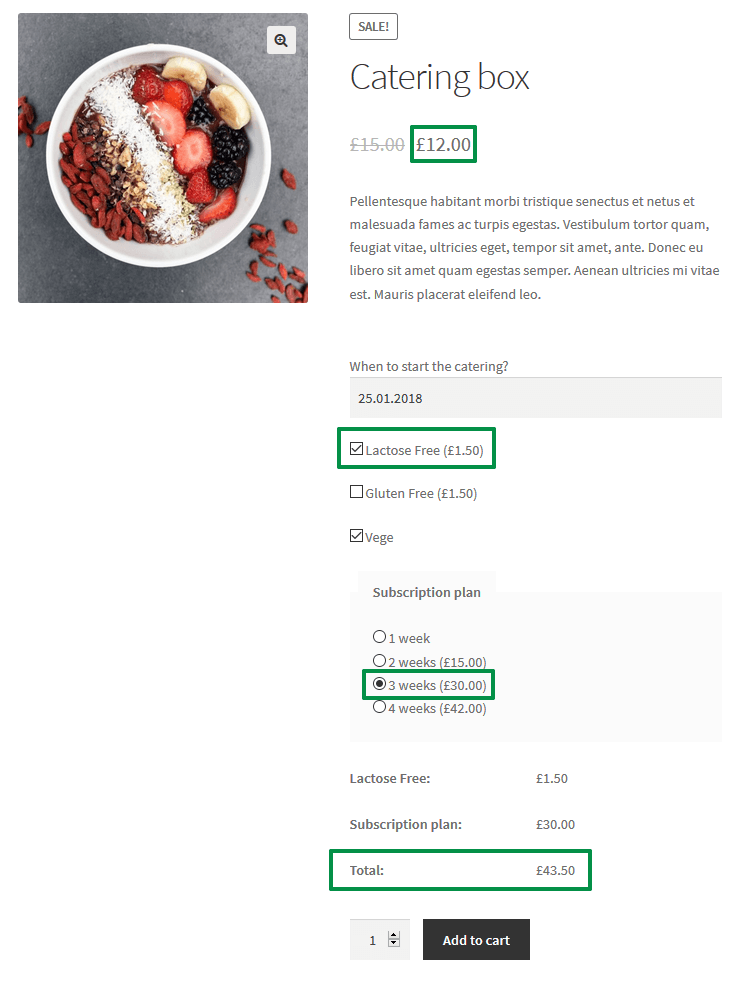 After you add the product to the cart, you will see the product on the list that looks like this: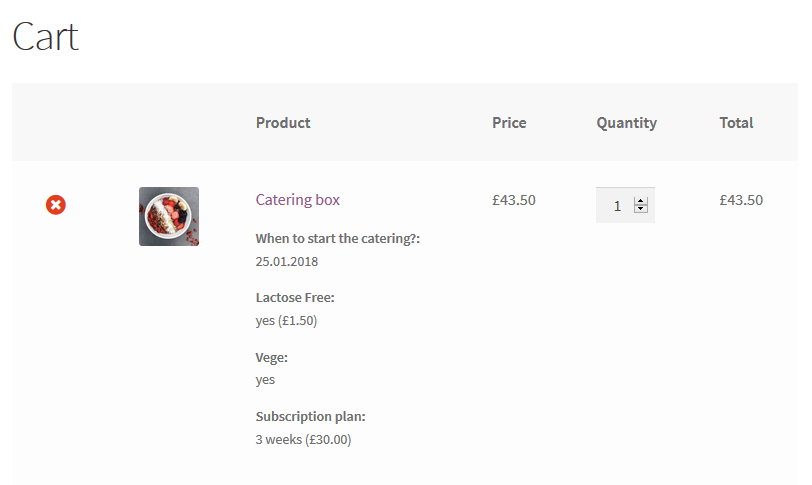 Are you ready to promote a healthy lifestyle in your store?
Flexible Product Fields is a multipurpose plugin. It could be WooCommerce catering plugin as well :) Let me know in the comments if you like this solution. I'm looking forward to your feedback. You can ask me for help if you have any problem while configuring this plugin.
Also, check out our WooCommerce Extra Product Options Guide if you want to learn more use cases for the Flexible Product Fields plugin.