After UPS and FedEx shipping plugins we developed another carriers' integration that offers live shipping rates. This time is DHL Express. With DHL Express for WooCommerce shipping plugin, you can integrate your store with your DHL Express account and offer live shipping rates for your customers.

We are proud to announce our new WooCommerce DHL Express shipping plugin - DHL Express for WooCommerce. Why DHL Express? DHL It's one of the main international shipping companies in the world. It offers export and import services from over 220 countries. We believe that our plugin is the best solution if you think about the DHL Express integration plugin for WooCommerce.
Free WooCommerce DHL Express Shipping Plugin
First, we developed the free version of DHL Express for WooCommerce plugin. It's free but packed with features. The most important one is displaying live shipping rates directly from the DHL Express' API. It also allows you to set custom shipping services. DHL Express for WooCommerce has also more advanced options like basic parcel packing method setting or the ability to change measurement units.
What's more, you can download DHL Express for WooCommerce for free! 
Live Rates
As I mentioned before, our plugin offers an automatic shipping costs calculator with DHL Express Live Rates. The shipping cost will be automatically calculated based on the shipping address and weight of all products in the cart. This way, you will charge your clients an exact amount that you would pay in DHL Express system, so you don't overpay for shipping.
Custom Shipping Services
DHL Express for WooCommerce plugin allows you to add various custom shipping services delivered by the DHL Express. You can decide to enable them, change their names in your store, and set the order on how to display them at the checkout page. Remember that some services can be not visible for your customers depending on the package weight, origin, and destination.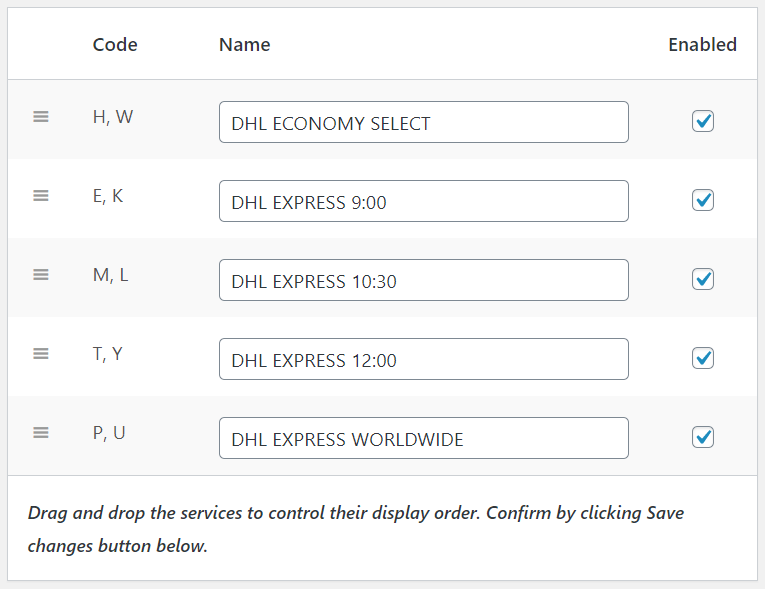 DHL Express WooCommerce PRO
We are also working on the PRO version of the plugin, that will offer a complex packing system and more advanced rates adjustments. That will allow you to get more accurate rates even for the more complicated shipments. If you are interested, you can fill our sign up form and get a 30% discount when it's released!
Summary
We made DHL Express for WooCommerce with many effective features, especially for the free plugin. Complete WooCommerce DHL Express integration in your store and offer your clients live shipping rates directly from the carrier. We hope that it will be useful to you.