The WooCommerce variable product is a product of different variables such as colors or sizes. You can create different color variations if you want to sell clothes for example. In this article, I'll teach you how to create variations in your WooCommerce store.
How to add WooCommerce variable product?
To create a WooCommerce variable product, go to Products → Add new. Adding and managing variable products is very similar to all WooCommerce products, read our complete tutorial about WooCommerce products.
After you provide basic product information, go to Product data metabox. You need to select Variable product here from the select box.
WooCommerce variable product configuration
It's easy to add a WooCommerce variable product. Now it's time for configuration. I'll guide you through the process.
Go to the Variations tab.
You'll get a notice saying you have to configure attributes first.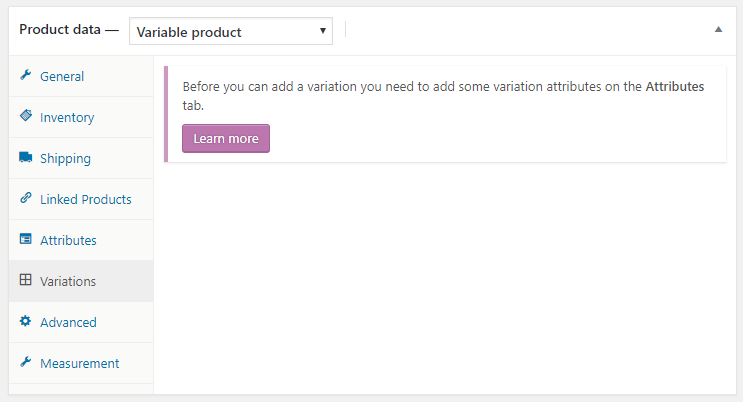 Go to the Attributes tab then. Choose either existing or new attribute and click Add. You'll get these configuration options as a result: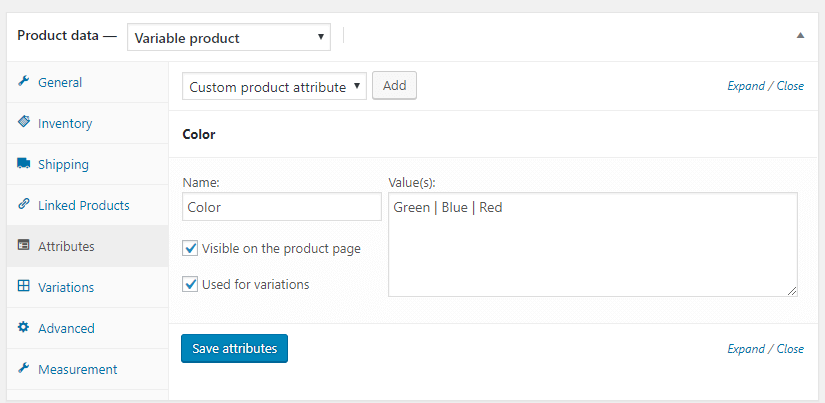 Set your attribute name and add variations (separate the values with the '|' character). You can configure i.e. Color attribute with Green, Blue, and Red variations.
You can add as many attributes to variations as you need, i.e. Color, Size, Type.
You need to mark the Used for variations checkbox. Click Save attributes and you're ready to go!
Remember that you can also add attributes globally in menu Products → Attributes and then assign them to multiple products.
Variations configuration
Go back to the Variations tab.
You can automatically create variations from all the attributes you have configured. Select Create variations from all attributes and click Go.
It creates variations as a result: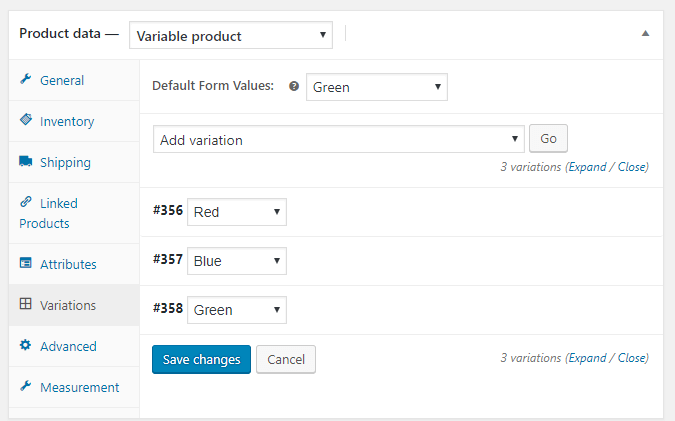 With the Default Form Values option, you can set which variation a customer sees by default on the product page. This is optional, but highly recommended.
You can configure every variation the same way you configure the simple product. You can set an image, SKU, sizes, price, shipping class and even a tax.
Remember to set the price of a variation. Otherwise, the variation will not show on the product page.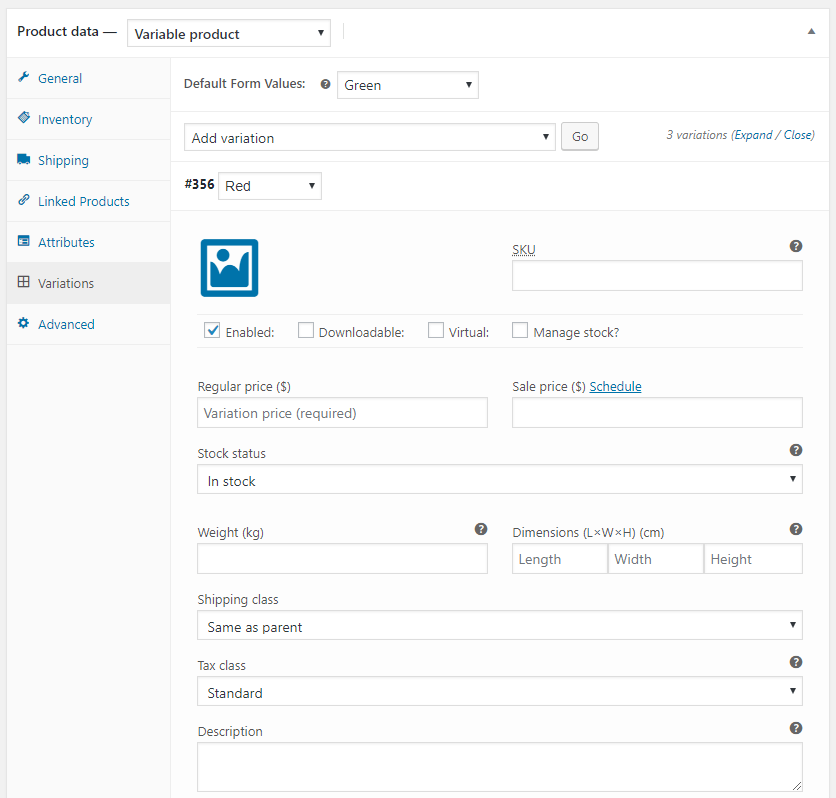 You can choose if a variation is virtual or not. With this option, you can sell music albums as physical CDs or MP3 files to download.
A customer will be able to choose one of these two options on one product page then!
Variable product in your store
So we have configured the WooCommerce variable product.
That's how it looks like in the store: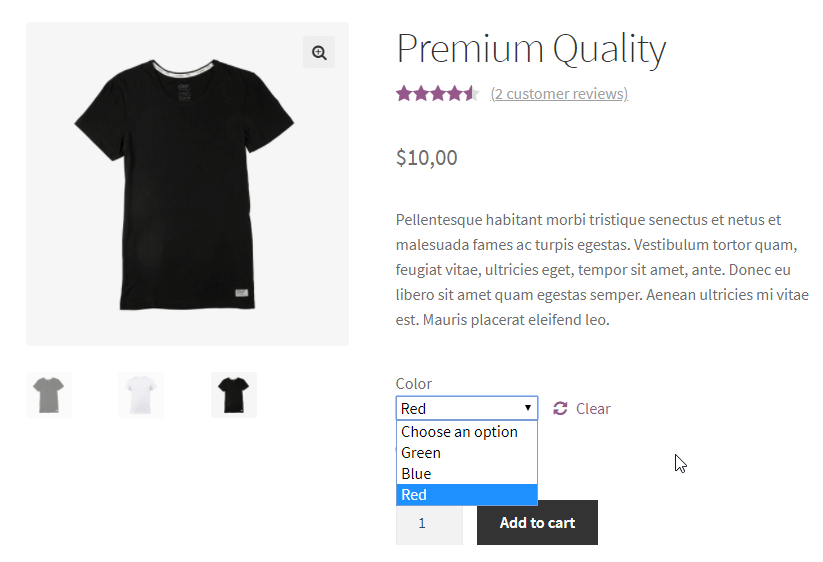 Alternative to variations
WooCommerce variable products won't always fit your needs.
Remember that every variation is, in fact, an individual product created in WooCommerce. It is attached to the main product.
That brings multiple database entries for every variation. For 50 variations you'll have 50 subproducts in the database. It could make the database overloaded.
Also, if you want some personalization features in your store then variations won't make it. They don't let you add an engraving text field or gift wrapping checkbox.
We created a plugin which is the solution for that need.
The plugin is Flexible Product Fields. It lets you create add-ons on product pages in your store.
You can add such fields as:
Single Line Text (input)
Paragraph Text (textarea)
Checkbox
Radio Button
Dropdown (select)
Date
Do you wonder how you can use these features?
Check out our Flexible Product Fields use cases →
Let me show you an example: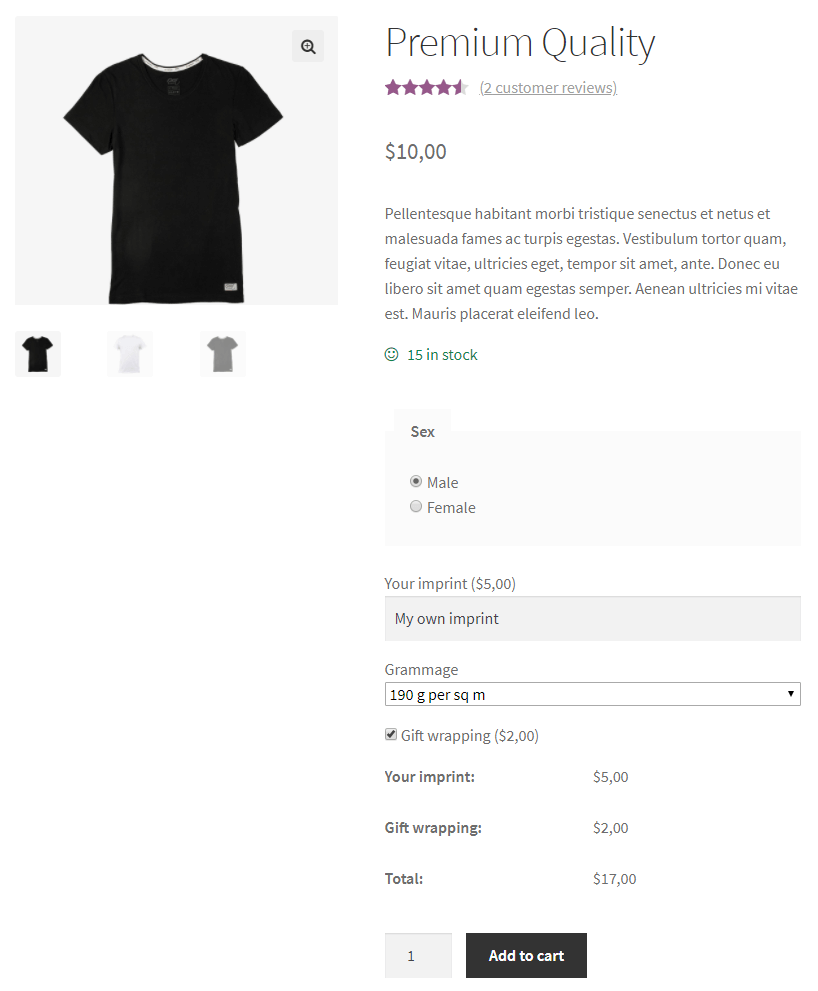 One more thing.
You can download Flexible Product Fields for free.
Flexible Product Fields WooCommerce
Create a product wizard to sell engravings, gift wrapping, gift messages, business cards, stamps and optionally charge for it (fixed or percentage).
Download for free
or
Go to WordPress.org
WP Desk
Last Updated: 2022-01-19
Works with WooCommerce 5.6.0 - 6.0.x
Are you using WooCommerce variable products?
You have learned how to add a WooCommerce variable product to your store. Also, I showed you an alternative if you want some more powerful features.
Let me know in the comments section below if the article helped you!