API Key activation
Important - If the plugin has a free version, it should be also installed.
Subscriptions allow activating plugins after installation and enable automatic updates directly from the WordPress Dashboard. After the purchase, we generate API keys for each order that must be entered after installing the plugin. Read about the activation process below.
Log in and go to My Account.
Download the plugin you want to install and copy API keys: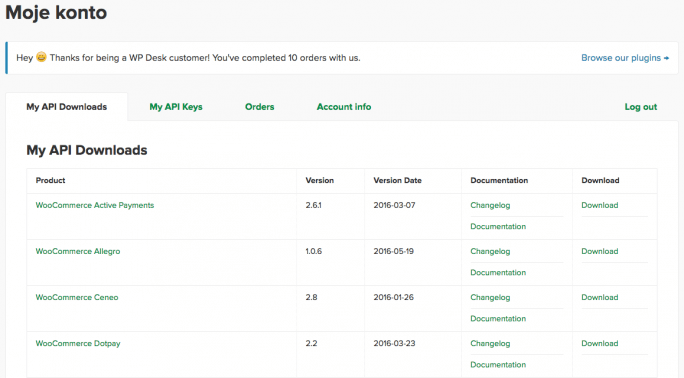 Install the plugin using your WordPress panel. Then, enable the plugin.
You will be asked to install the WP Desk Helper plugin. You'll be able to manage your subscriptions and active plugins using our WP Desk Helper. Install the plugin and turn it on.

After the installation, a new WP Desk position will appear with the Subscriptions submenu. This is the page where API keys can be activated: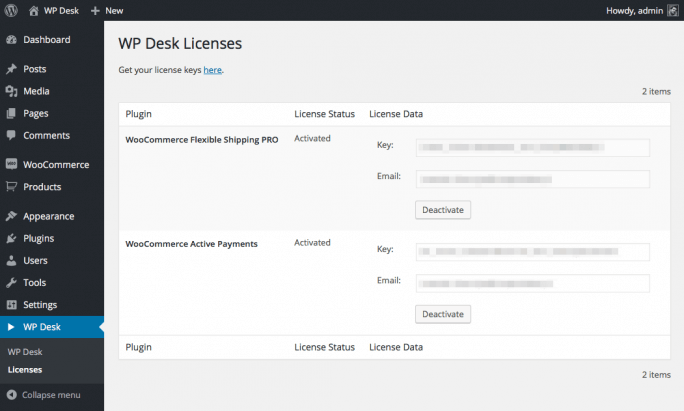 After you have entered a valid API key and e-mail, and after you have activated your API key, the plugin will be fully activated and upgrades in the WordPress panel will be enabled.
An additional page WP Desk will appear in the WordPress menu. You will see the latest special offers and new plugins there. Do not worry, though, we will not be intrusive in any way. If you're not interested, just ignore the page's existence :)
API key transferring
All API keys can be transferred between WooCommerce installations. This function can come in handy if you want to test the plugin on a sandbox server.
To transfer subscription, you must login into my account section and deactivate the API key on the old site. Then, you just have to type in the API key data on the new site. Once you've done that, the plugin is fully activated and you're ready to go. You can also deactivate the API key using WP Desk Helper.
WordPress Multisite
You can find the exact instructions for activating API key on Multisite here.
WP Desk Helper
WP Desk Helper is used to manage subscriptions of our plugins.
Download WP Desk Helper
Problems with the WP Desk Helper plugin installation
Sometimes, with too low version of PHP (we recommend v5.6 or higher), specific server configuration and/or installed plugins, some problems may arise when installing the WP Desk Helper. For instance, you may see the following message:
An unexpected error occurred. Something may be wrong with the WordPress.org server or the server configuration. If the problems have been occurring for a longer period of time, you may seek help in the forum.
It may not be possible to automatically install the Helper. In this case, download the Helper here and manually install the Helper by installing the plugin using the WordPress panel or FTP.
Problems with the WP Desk Helper plugin activation
Our server requires OpenSSL 1.0+ to connect. If your server (the one WooCommerce is installed on) has cURL module outdated, WP Desk Helper won't be able to maintain connection needed to activate your plugins. In such situation, the notification will pop up
Connection failed to the API server. Try again later.
You can go to WooCommerce -> System status in your WordPress panel to check it out. You can find there a line with cURL version such as cURL Version: 7.21.0, OpenSSL/0.9.8o or cURL Version: 7.19.7, NSS/3.21 Basic ECC. Please contact your hosting provider and ask them to update cURL on your server.
In spite of the current version of cURL, you can not activate the subscriptions, it is probably due to a blocking used by the hosting, such as using a firewall. Please contact your hosting provider to remove the connection block with the domain www.wpdesk.net.
Frequently Asked Questions
Answers to frequently asked questions you may find here.