Conditionally hide upfront payment methods for cash on delivery shipping options. Add fixed or percentage fees to payment methods.

View PricingGo to Demo
Conditional WooCommerce Payment Methods
By default WooCommerce shows all payment options, i.e. online payments or bank transfers for all shipping methods. If you offer cash on delivery payments (COD), clients might be confused. Thanks to this plugin, you can conditionally display payment methods for shipping options.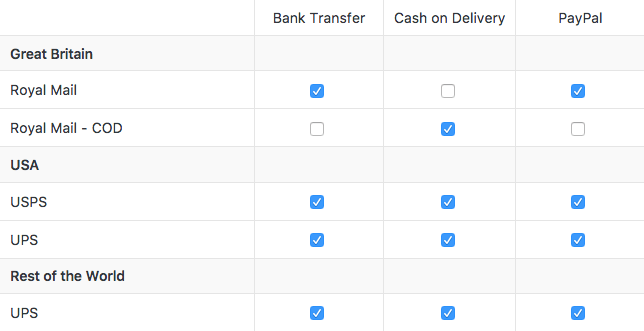 Disabling WooCommerce Payment Methods
Disable payment methods based on cart totals.

WooCommerce Payment Gateway Based Fees


Active Payments Feature Overview
Active Payments has all the features to conditionally manage WooCommerce payment methods and charge additional fees.
Conditionally display selected payment methods for shipping methods.
Set cart total and disable payment method when the customer exceeds this total (shipping costs excluded).
Total control over fees: titles, taxes, minimum and maximum order totals, fixed or percentage fees.
Fees compatible with our Flexible Invoices for WooCommerce are displayed on invoices.
Testimonials
Our customers love Active Payments. Here are some of the featured reviews we've received:
Pricing
Join 80,051+ happy customers using our plugins
30 day money back guarantee
97% customer satisfaction ratings
Secure checkout and download
FAQ & Plugin Details
Learn more about the plugin and check some of the most popular questions about the purchase.
Where can I find the plugin documentation?
Do you have the plugin demo or trial?
You can set up your own full featured demo here: WP Desk Demo.
We also offer 30 day money back guarantee, so you can test the plugin risk free in your WooCommerce store.
What payment methods do you accept?
We accept Stripe payments including the most popular credit cards.
All payments are handled by Stripe secure payments and SSL checkout. We do not store your credit card details.
Do you offer money back guarantee?
Absolutely. We stand strongly behind our products and offer 30 days money back guarantee. Please read our refund policy for details.
How do renewals work?
A subscription entitles you to 1 year of updates and support. All price options are billed yearly. You may cancel at any time.
If you decide to cancel, you can keep using our plugins but you won't get updates and support, after the subscription expires.