Customers love sales and pricing deals. Use this! Create promotions like Buy One Get One Free to get more sales in your store.

View PricingGo to Demo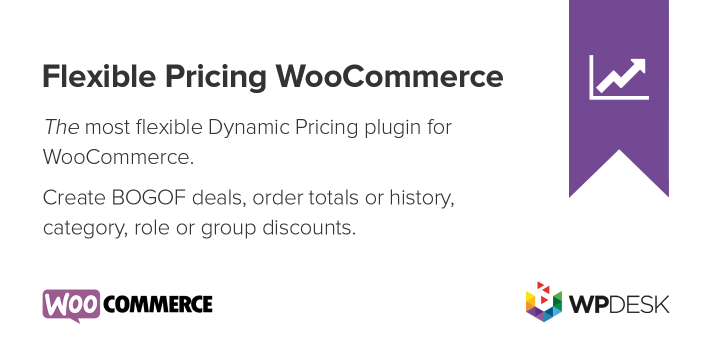 Why is Flexible Pricing the perfect choice?
Configure discount
You may configure almost every discount that you ever thought.
Different triggers
Take a look at the list below to see all types of discount.
Percent or fixed?
You can decide what discount you want to offer. Percent or fixed?
Types of discounts for your store
Price, percent or fixed discounts.
Discounts for selected categories.
Different kinds of BOGOF (buy one, get one free) or BOGOHO (buy one get one half off) promotions, i.e., buy X items of one product to get discount for Y items of this or other product.
Discounts for selected roles or client groups.
Per product or variation discounts.
Discounts based on order totals, totals in selected categories or customer order history.
Buy the product from the selected category and get a discount for another product from this or another category.
Examples of product discounts
Create discounts at the product and/or variation level.
Buy one t-shirt, get one free.
Buy product from category laptops, get 50% off for a laptop case.
Buy 5 mugs, get every above 5 at 20% discount.
Examples of order discounts
If the order total is $100 or above, get a 10% discount, if $200 or more, get 15% discount, etc.
If the order total is between $100 and $200, get a $20 discount and if between $200 and $400, get a $30 discount.
If the order total in laptops category is at least $1000, get 20% for any products from laptop accessories category.
Examples of discounts based on order history
If the client spent at least $500 last year, he gets a 10% discount.
If the client spent at least $50 this month, he gets a $5 discount.
If the client spent between $300 and $500 in the last 100 days, he gets a 5% discount, and if between $500 and $700, he gets a 10% discount.
Examples of category discounts
Instant 15% discount for all football accessories (i.e., you want to make a sale for Euro 2016).
A 10% discount for any smartphone case if you buy any smartphone.
A $10 discount for all products from crime books, if you buy at least 5 books from crime category.
Examples of role and group discounts
Flexible Pricing integrates well with WordPress roles (Subscriber, Author, Editor, etc.) and WooCommerce roles (Customer, Shop Manager). You can also add customer's roles with User Role Editor plugin or groups with Groups plugin. You can add price or percent discounts for every role.
10% discount for all shop employees (based on Shop Manager role).
$5 discount for all newsletter subscribers (create a Newsletter group and assign users to that group when they sign up).
5% discount for all registered customers (you can quickly discount all products for a special occasion, i.e., shop anniversary).
Flexible Pricing is very flexible (hence the name :)) and it will most certainly live up to your expectations and complicated pricing scenarios. However, it won't do everything. If you plan a very sophisticated pricing strategy and are not sure if it is possible to do it with the plugin –
contact us
, we will help you to check it. Do it before you buy, because lack of a feature isn't a reason for a refund.
Pricing
Join 79,962+ happy customers using our plugins
30 day money back guarantee
97% customer satisfaction ratings
Secure checkout and download
FAQ & Plugin Details
Learn more about the plugin and check some of the most popular questions about the purchase.
Where can I find the plugin documentation?
Do you have the plugin demo or trial?
You can set up your own full featured demo here: WP Desk Demo.
We also offer 30 day money back guarantee, so you can test the plugin risk free in your WooCommerce store.
What payment methods do you accept?
We accept Stripe payments including the most popular credit cards.
All payments are handled by Stripe secure payments and SSL checkout. We do not store your credit card details.
Do you offer money back guarantee?
Absolutely. We stand strongly behind our products and offer 30 days money back guarantee. Please read our refund policy for details.
How do renewals work?
A subscription entitles you to 1 year of updates and support. All price options are billed yearly. You may cancel at any time.
If you decide to cancel, you can keep using our plugins but you won't get updates and support, after the subscription expires.