Would you like to know how to start dropshipping with WooCommerce? Or see how to import products to WooCommerce and synchronize them with your wholesalers' offer? If the answer is yes, then this post is for you. Read today how to synchronize products for your WooCommerce store and take advantage of dropshipping. Thanks to the Dropshipping XML WooCommerce plugin, your store offer will be always up-to-date. Great, right? Let's get started!
How to import and synchronize products in dropshipping with WooCommerce
Dropshipping XML WooCommerce is the newest WP Desk plugin. Read the article on how to import products from XML and CSV files for dropshipping in WooCommerce.
In brief. Wholesalers provide you with an XML or CSV file with products that you can import into the store. And fill your WooCommerce store shelves with new products.
If the products are not stored but are shipped to the customers after a purchase, directly from the wholesalers' warehouses, we are talking about the dropshipping business model.
It is very helpful when starting your own online store without having to stock up and own your warehouse at the beginning.
Dropshipping of products and services is predicted to increase in the coming years by this
report
.
Stock change for products that are not in the feed
In the latest version 1.1 of the Dropshipping XML WooCommerce plugin, you will decide how to update the inventory of products that will not be in the feed during the future product feed imports.

Some wholesalers do not provide the feed with products whose inventory is 0. In version 1.1 of the Dropshipping XML WooCommerce plugin, for the XML file import settings we have added the ability to choose what to do with products that have been imported and then disappeared from the file. The mechanism is based on mapping products from a file with WooCommerce products.
The plugin will check SKU values or product names when updating products, and you can decide what to do if it does not find products during the import. You may choose to:
do nothing with previously imported products,
set the stock level of "missing" products to 0,
delete such products from WooCommerce.
Category omission for product imports
Does your wholesaler also categorize the products it sells? During the XML or CSV file import settings, you can choose whether the products are to be added to a specific WooCommerce product category or mapped with a specific category. You can set up an import cycle so that the products between the store and the wholesaler will be synchronized. But it is not everything!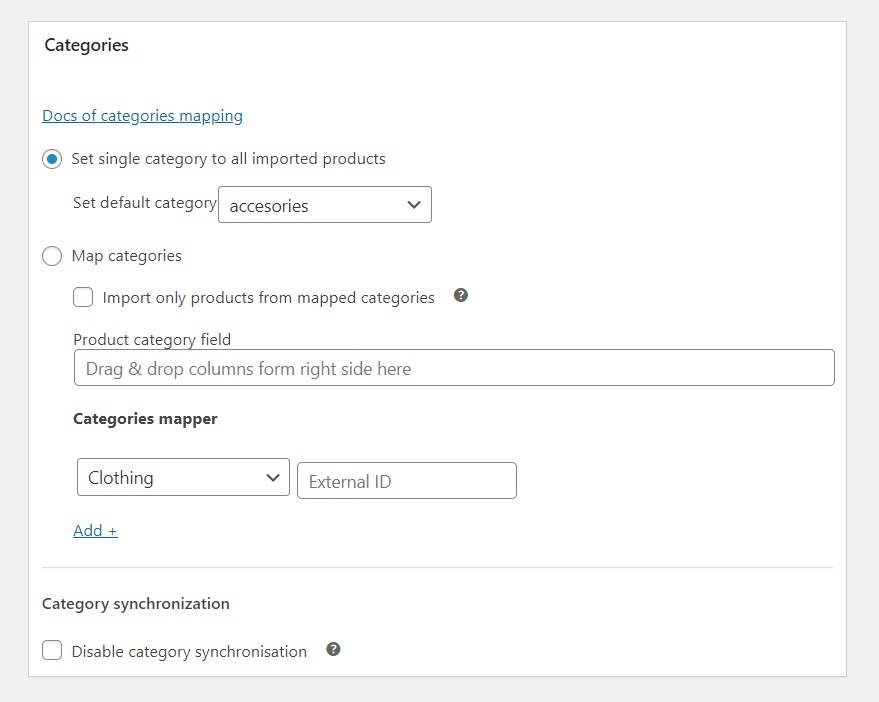 In the new plugin version, you may enable synchronization not at the level of the entire file, but directly at the category level. This allows you to retrieve product settings or category names and then not synchronize them, making the product and category settings different from those in the warehouse file.
Default categories and importing products only for mapped categories
So far, all products from the feed have been imported. Now you may choose whether to exclude certain categories. Thanks to this, only products from selected categories will be downloaded, which can be additionally mapped with product categories in your store.
You can also set the default category for importing products from the XML / CSV file of the warehouse. Of course, the default category may be different for each imported file.
Synchronizing and importing products for successful dropshipping business in WooCommerce
In the beginning, you find wholesalers whose offer is interesting. Then, by using Dropshipping XML WooCommerce plugin, set the import of products to the store and decide on the method of subsequent product synchronization. Starting today, you will also use advanced settings for category mapping and synchronization. And inventory updates for future imports. All this will make it easier for you to start selling in the dropshipping business in your WooCommerce store.
Dropshipping XML WooCommerce

£

79
Import and synchronize wholesale products with WooCommerce products.
Add to cart
or
View Details
WP Desk
Last Updated: 2021-04-12
Works with WooCommerce 5.0.0 - 5.3.x
PS, or how to use dropshipping in WooCommerce
Finally, some ideas for using the import of products from the warehouse to take your store to the next level.
If you have any questions, feel free to email us / leave a comment. Good luck!